Net Weight 450g
Regular price
Sale price
£11.99
Unit price
per
Sale
Sold out
Introducing our sensational blend of Raw Honey with Turmeric, Black Pepper, and Zesty Lemon - a captivating fusion of flavours that not only excites your taste buds but also nurtures your well-being with a burst of natural goodness.
Here's why our Raw Honey with Turmeric, Black Pepper, and Zesty Lemon is the perfect addition to your pantry:
Golden Goodness: Immerse yourself in the delightful sweetness of raw honey, known for its natural sweetness and health benefits, including its soothing effect on sore throats.

Turmeric's Magic: Harness the anti-inflammatory and antioxidant powers of turmeric, renowned for its potential to promote joint health and overall well-being.

Enhanced Bioavailability: The inclusion of black pepper in this blend can enhance the absorption of curcumin (the active compound in turmeric), making its benefits more accessible to your body.

Zesty Lemon Zing: The zesty lemon complements the warmth of turmeric and adds a refreshing citrusy twist, making it a perfect addition to beverages and culinary creations.

Digestive Support: This fusion may aid in digestion and provide relief from occasional discomfort, ensuring your tummy stays happy.

Vibrant Flavor: It's a versatile addition to your kitchen, perfect for adding a unique, vibrant flavor to teas, marinades, and salad dressings.

Holistic Health: With its blend of nature's finest ingredients, this honey infusion offers a holistic approach to wellness, supporting your immune system and overall vitality.
Elevate your culinary adventures and nourish your body with the harmonious fusion of our Raw Honey with Turmeric, Black Pepper, and Zesty Lemon. It's a symphony of flavors that celebrates both your palate and your well-being. Savor the natural goodness in every drop!
Ingredients

100% Raw Honey with Turmeric, Black Pepper and Lemon
Nutritional info

One tablespoon of raw honey is 60 calories, 17 grams of carbohydrates and 16 grams of sugar. It contains many amino acids, vitamins, minerals and enzymes, too.

The exact composition of raw honey varies depending on the plants the bees collected nectar from.
Shipping

Our delivery charges vary where our standard UK shipping charge for an order under 1kg is £2.95.

For orders above 2kg and under 10kg we charge a flat rate of £4.95
Share
View full details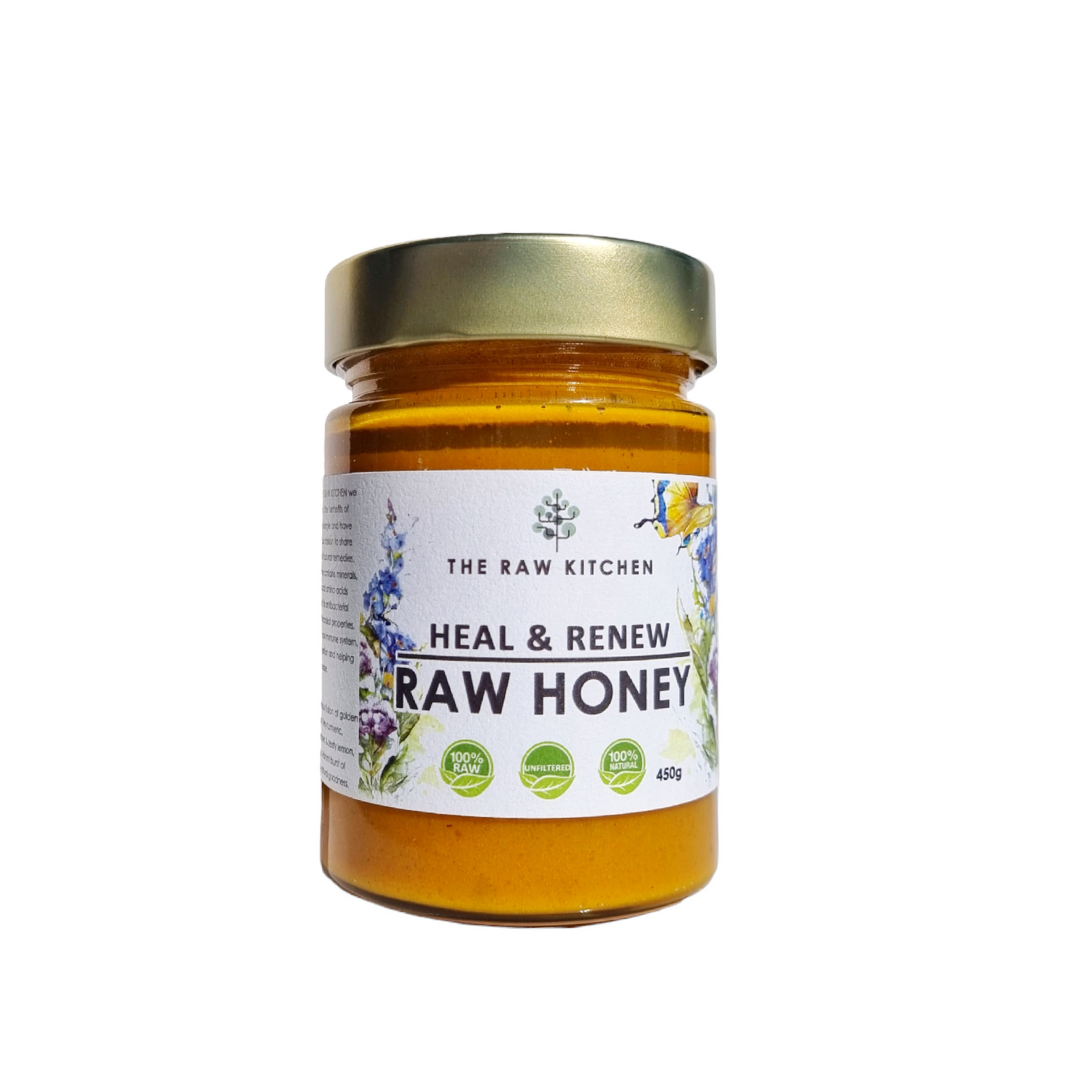 Family staple for the winter
I love the fact that this honey incorporates a range of ingredients that actively work towards strengthening the immune system. It can easily be made into a tea or used as a winter elixir for the whole family. I will certainly be stocking this in my pantry for the winter.