Regular price
Sale price
£10.99
Unit price
per
Sale
Sold out
Introducing our delectable Wildflower Raw Honey infused with the comforting embrace of Ginger and Zesty Lemon. This sweet elixir is your perfect companion when you're under the weather, offering a soothing and flavourful remedy that combines the best of nature's offerings.
Here's why our Ginger and Lemon Raw Honey is your ideal choice for wellness:
Wildflower Magic: Sourced from a variety of wildflowers, our raw honey retains a bouquet of flavours, offering you the essence of diverse floral nectar.

Ginger's Warmth: Ginger, renowned for its natural warming properties, provides comforting relief for your body, especially during those challenging days when you're not feeling your best.

Zesty Lemon Zing: The zesty lemon infuses a refreshing citrusy burst that awakens your senses and adds a delightful twist to your soothing remedy.

Sore Throat Soother: The soothing qualities of honey provide relief for a sore throat, while ginger helps ease discomfort, making it your go-to choice during times of illness.

Digestive Ease: Ginger is known for its digestive benefits, helping calm your stomach and provide comfort when you need it most.

Versatile Comfort: Enjoy it in a comforting cup of hot tea or a spoonful right from the jar, making it a versatile addition to your wellness routine.

Natural Wellness: Embrace the natural goodness of this infusion to support your immune system and promote overall well-being during times of need.
When you're feeling under the weather, our Wildflower Raw Honey with Ginger and Lemon is the delicious remedy that's sure to lift your spirits and provide comfort. Experience the warmth of nature's embrace in every sweet, soothing spoonful.
Ingredients

100% Raw Honey with Ginger and Lemon
Nutritional info

One tablespoon of raw honey is 60 calories, 17 grams of carbohydrates and 16 grams of sugar. It contains many amino acids, vitamins, minerals and enzymes, too.

The exact composition of raw honey varies depending on the plants the bees collected nectar from.
Shipping

Our delivery charges vary where our standard UK shipping charge for an order under 1kg is £2.95.

For orders above 2kg and under 10kg we charge a flat rate of £4.95
Share
View full details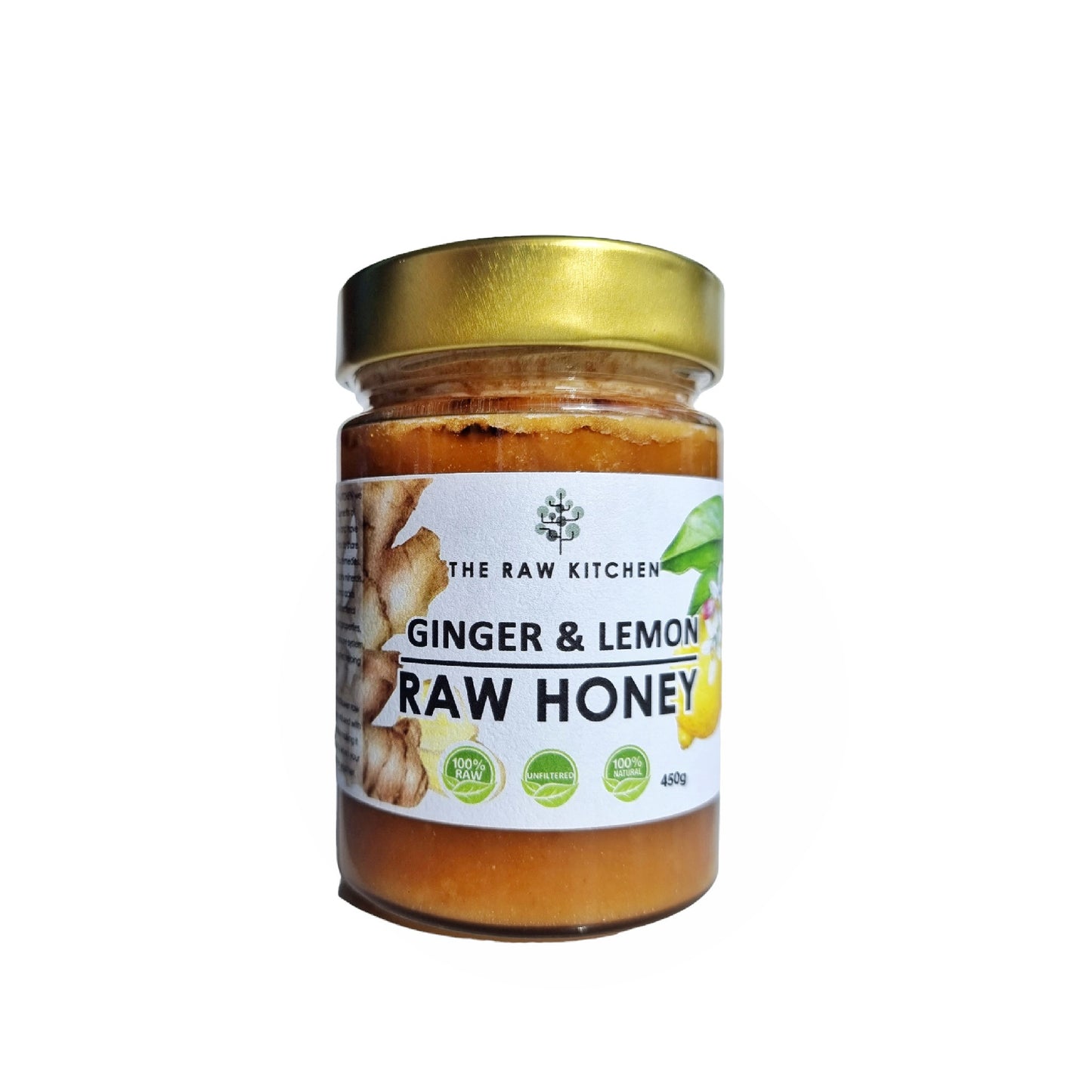 warming and comforting
This honey is so warming and soothing especially when you're feeling under the weather. I love it so much.